Merlin Cummins – Piano
Merlin was born in Sligo and studied piano from the age of four under the tutelage of renowned local teacher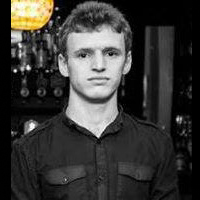 Kathleen O'Hara and also his mother Lucie O'Hara, currently a teacher at the academy.
He is a past student of the academy, having studied violin with Niamh Crowley from the age of seven, and was a member of the academy's orchestra's during his time there. He studied piano at the academy under Brendan Finan, and has also been taught by local Sligo jazz pianist Kieran Quinn.
Merlin went on to study music performance and teaching at Dundalk IT and Griffith College, Dublin. In 2011 he was awarded a Level 8 Certificate in Music Teaching from Griffith College, and has been teaching at the academy since 2010.
Merlin is a classically trained pianist but also has a keen interest in rock, pop, blues and soul music, and regularly performs with local Sligo musicians Dean Mahon and Emma Burke.