Anna Houston – Cello/Ukelule/Banjo/Mandolin
Anna Houston studied Cello at the Conservatory in her home town, Berne, Switzerland from age 9.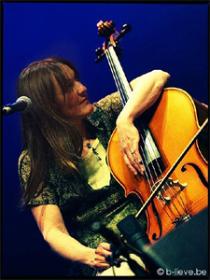 All through her teens she played in different orchestras, classical Trios and Quartets, and also did recording work on Cello and Bass with several Singer-Songwriters.
In her late teens she became very interested in Irish Traditional Music and moved to Ireland in 1991. Although classically trained on the Cello, she is also an expert Banjo and Mandolin player.
In December 05 Anna was awarded Distinction at Senior Certificate Level in Cello performance through the R.I.A.M., and she is at the moment studying for a Performance Diploma.
Anna composed and recorded the soundtrack for various shows, and has performed with various acts including Mike Scott and Steve Wickham (The Waterboys), Dervish, Sligo Baroque Ensemble, with whom she has made several appearances as solo cellist, and in shows with the Sligo Musical Society.
She has done arranging and recording work with Sligo bands including Dervish, Those Nervous Animals, Cathy Jordan, James Blennerhassett, Steve Wickham and many others.
Anna also teaches the Cello and Banjo at Sligo Academy of Music and holds numerous music workshops for kids.
Anna has been playing Cello and Mandolin in Sligo Band "NO CROWS" since 2005. The Group's repertoire includes Folk Music from all over the world, which they combine with their own compositions, and a healthy dose of Gypsy Swing. The line up includes Spanish Guitar (Felip Carbonnell), Double Bass (Eddie Lee), Cello and Mandolin (Anna Houston) and Fiddles (Steve Wickham and Oleg Ponomarev).
NO CROWS have recorded three albums, "Live at the Strand" (2006), "Magpie" (2008) and "No Crows on the Moon" (2010), which they are currently touring in Ireland. The Band has toured extensively in Switzerland, Belgium, England (Glastonbury Festival) and Ireland.