A Night at the Musicals and Songs of Shaun Purcell
Saturday 9th November 2019
We are delighted to be performing in this fantastic show 'A night at the musicals and songs' of Shaun Purcell with The Mad Ravens @County Sligo Golf Club Male Voice Choir, Duly Noted, and Grange Post Primary School and Friends.
Shaun's musicals have been staged professionally to critical acclaim, both at home and abroad, and more recently, in the Hawk's Well Theatre, Sligo
The show ranges from big chorus numbers to modern ballads, and includes songs from 'The Boy From the Far Side of the Moon'; a new original musical to be premiered in Hawk's Well Theatre in March 2020.
Sligo Pops : A Night at the Movies
Sunday 1st December, 2019.
SAM Junior, Jazz and Sinfonietta Orchestras are taking part in the Sligo Pops concert which celebrates the wealth of instrumental talent to be found in Sligo and features music from your all-time favourite blockbuster film scores. With performances from a range of soloists, duets, ensembles and even orchestras, this concert will transport you to Hollywood on a magical movie-themed adventure this December. Don't miss this unforgettable evening which will include some festive classics to put you in the Christmas spirit! Tickets are available on the Hawkswell Website or their box office 071 91 61518.
October 27, 2019
Symphony Of Dance
On Sale Now… 'Symphony Of Dance' featuring DJ's Roger B and Barron Cawley alongside Sligo Academy of Music Orchestra, with guest vocalist Sinead Conway Singer and warm up set by Dj Tommy Finan. Old school dance classics on an epic scale! All profit for the Sligo Rovers F.C., Bit O'Red Supporters Trust. Booking from: www.sligolive.ie | 071 916 1518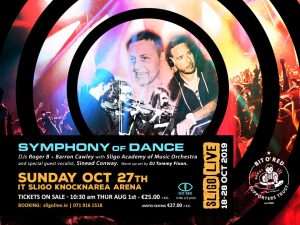 December 1, 2019