Eva Stevkova – Violin/Viola
Eva Stevkova was born in Slovakia and started to play the violin at an early age, studying music in Bratislava. She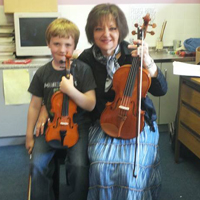 graduated from the Konzervatorium with a diploma in violin performance and further education management.
Eva started to teach the violin in 1982 at a Slovakian music school where she was later appointed deputy principal. She attended national and international violin competitions with her students every year to great acclaim. Eva combined her teaching achievements with a busy performing career in Slovakia and throughout Europe with the European Symphony Orchestra and the Del Arco string quartet.
Embracing many different musical genres, in her spare time Eva also enjoys playing country music. In 2005 she left Slovakia and arrived in Ireland. She started teaching violin with Donegal VEC. From september 2007 she took the post of violin professor at the Sligo Academy of Music, a role she really enjoys.
Eva feels that Ireland has a very high level of education system and many talented students and teachers.
She relishes the chance to work and live in this beautiful part of the world.